With 2022 coming to a close I wanted to write one more blog post for the year. This year like many others has gone quite fast. There was quite a lot that has happened for me both personally and for my side projects.
As December has been moving forward I feel tons of excitement and happiness. Things are starting to really gain momentum for me. I feel like lots of bets I have made for myself in the past are going to be realized soon in the next year. There will be lots of work ahead but I am looking forward to it all.
2023
Next year I plan on focusing even more on my side projects. As important as they are though I try my hardest to make sure I maintain a healthy balance between them and my wife and family. They come first and without them nothing else is really important.
Bridges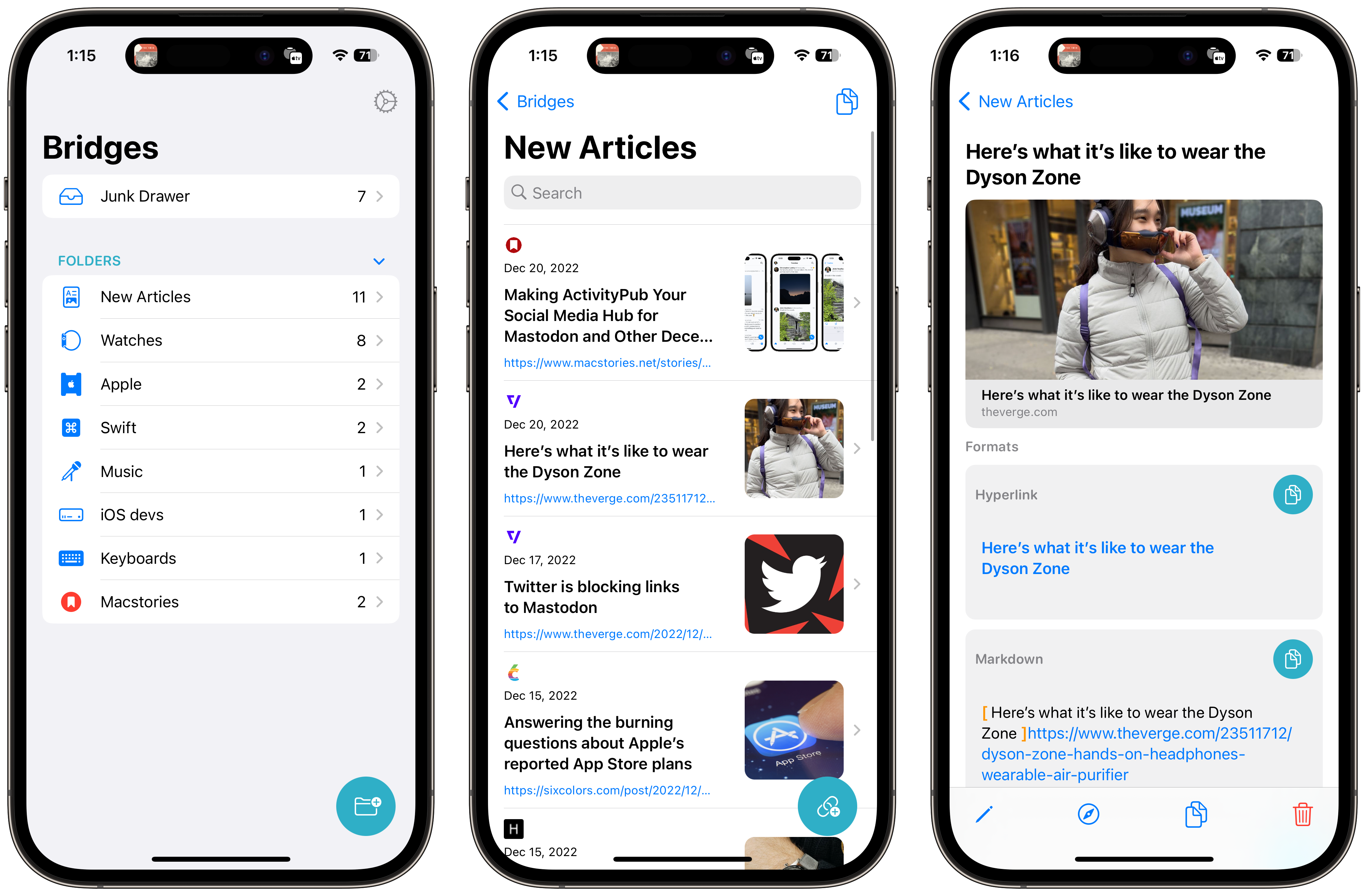 This is gonna be one of my main focuses going into 2023 and I have a good roadmap of features to make for it. In short Bridges is my iOS app that lets you easily create formatted links. It is something I wanted myself for the longest time while making my podcast back in the day.
I would need to compile show notes with nice links and instead of URLs I would make nice hyperlinks. But this work was tedious and I would even need to go back and get all those same ones in Markdown afterwords. So Bridges is the app that fixes this and hopefully encourages you to save as many links as you want. It quickly lets you enter a link into a custom folder and after you compiled a list of links you can easily copy all of them in the format you need. What took minutes now takes seconds automating the process and giving you time back. I think the app could have a wide appeal even outside the podcasting space. People who write and deal with lots of text must have workflows for saving links but I think if they tried Bridges it can help them be more productive.
I am going to focus on getting this out on the iPhone first and then move to the iPad and Mac. Personally I would love to use this on the Mac as well. Luckily Apple introduced Universal Clipboard a few years back so I can copy things in the app and just paste them in on the Mac with this handy feature. Im glad I can talk about it more publicly I was going to wait for a public beta but a close friend suggested I talk about it sooner. And I'm so glad I did I posted about it on Mastodon and it got lots of attention even from people I didn't expect. It was an amazing feeling and now I want even more to work on the app and ship a TestFlight early in 2023.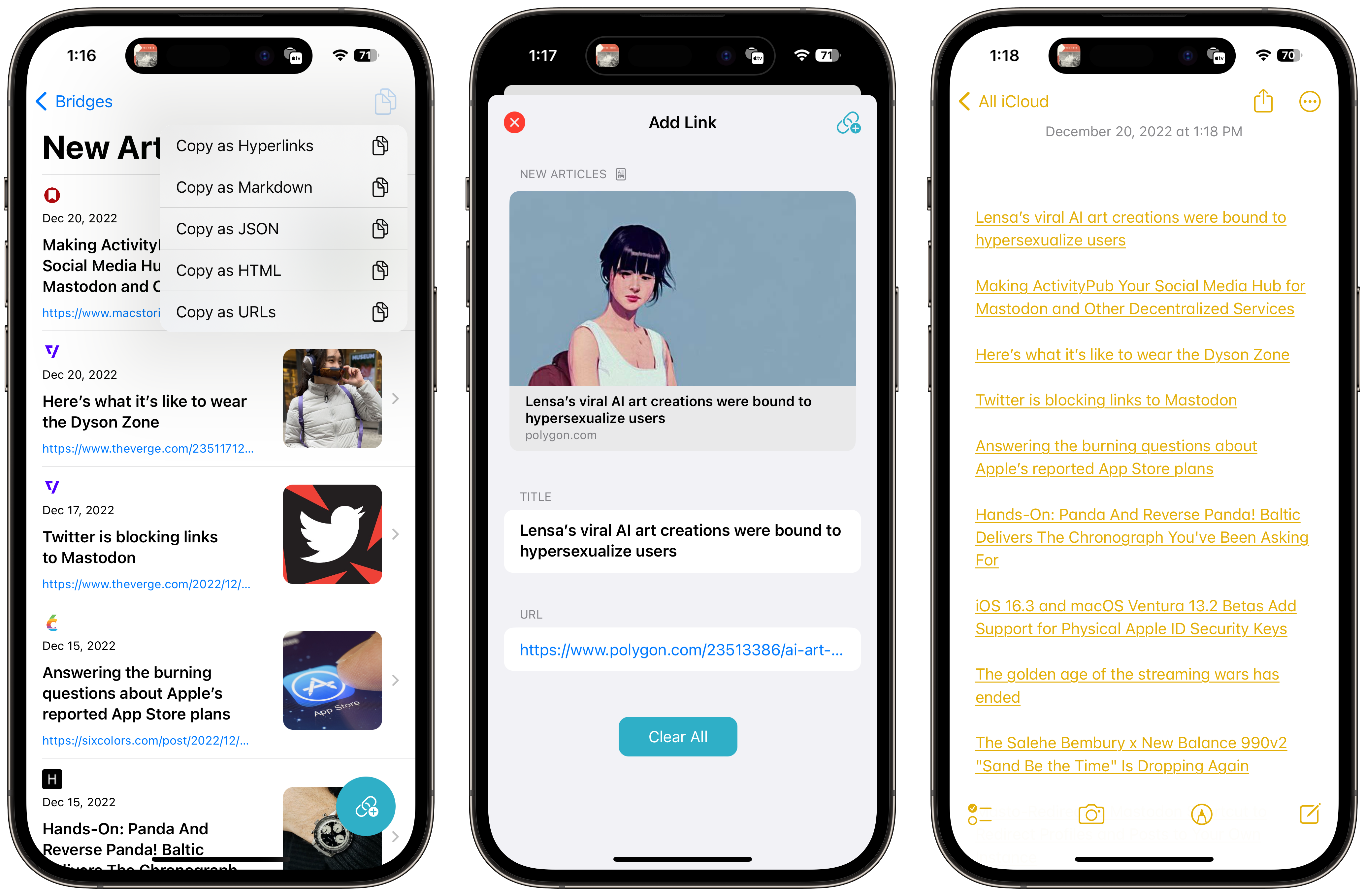 The podcast I edit hosted by Charlie Chapman is doing very well. I had been a listener since it was introduced but now I get to be a part of producing it. If you enjoy this blog and are in the Apple community I highly recommend you check it out. Charlie interviews so many amazing people and you get to hear lots of great insight that you can take with you. Charlie was even a guest on one of Relay FM's shows Mac Power Users to talk about Launched and his app Dark Noise.
Whats next
I have tried to post here more regularly but I also want to make sure I post things worth reading. I don't want to just post to hit a number of articles. Building in public is a cool concept that has been gaining steam and I intend to post more about Bridges development and other stuff here. Thank you so much for reading my site and stopping by. I have some simple analytics offered by Netlify and I am still surprised by how many people come here. With so much going on in the Apple world and tech community it feels great to have a place that is mine. If you want more of my posts or thoughts follow me on Mastodon. Hopefully blogging and decentralized platforms continue to grow. I hope you have had a good year and are looking forward to the next one.